Copyright 2015 Robert Clark
The
Hermes
spaceplane because of its size was intended to be carried by the Ariane 5. However, that plan was cancelled because of cost. But if you use a smaller capsule then it could be carried by the Ariane 4.
Two versions would work for a fully liquid fueled launcher, the Ariane 42L and Ariane 44L, the first with two liquid-fueled side boosters and the second one with four. Versions of the Ariane 4 using solid side boosters were also made however for this manned spaceflight application I'm only considering all-liquid fueled launchers.
According to Astronautix, the
Ariane 42L
could carry 7,900 kg to LEO and the
Ariane 44L
, 10,200 kg.

Ariane 42L V56
Ariane 42L V56 - COSPAR 1993-031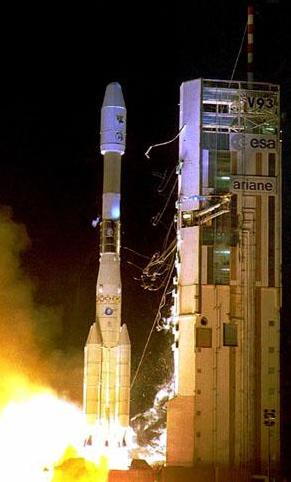 Ariane 44L
Credit: Arianespace
A crewed version of the Cygnus capsule probably could be produced to mass in the range of 2,000 kg dry mass:
Budget Moon flights: lightweight crew capsule.
http://exoscientist.blogspot.com/2013/04/budget-moon-flights-lightweight-crew.html
Bob Clark